What is dolsot?
Dolsot usually refers to Korean stoneware made from fine clay or fine stone. Some people also refer to it as Gop-dol. Many people are first introduced to this when they have their first Dolsot Bibimbap. When they first hear the sizzling sound as it gets served at their table, it's truly mesmerizing. There are actually quite a few different types of these stone bowls but they all generally do the same thing- keeping your food very hot, most likely until you finish your last bite. When you have the Bibimbap or other Rice on the Rocks options with stir-fried entrees, the best thing about these stone bowls is that the rice on the bottom gets super crunchy and delicious as you scrape down your last few bites.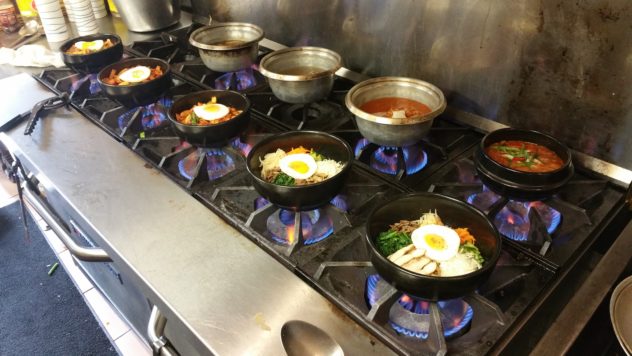 WHY DO I WANT ONE AT HOME?
Well maybe you were at a Korean restaurant, ate a little too much and came home with leftovers. Have another awesome moment with the stone bowl the next day!

You want to try making Bibimbap at home! You don't always need a stone bowl to enjoy a nice Bibimbap but some people can't eat without it.

It doesn't have to be Korean food! Use your imagination to see what cuisines would fit nicely with the use of the stone bowl. Maybe a giant bowl of chicken noodle soup that you want to heat up because you caught a cold?
Our Dolsot Bowls in action!
WHERE TO BUY THE STONE BOWLS?
You can find some of these stone bowls at places like H-Mart or little authentic Korean stores in K-town LA/Flushing NY but I found some great options on Amazon for those of you who like to shop online (Especially Prime Members)!
option #1
Sold by Crazy Korean Cooking
Bibimbap Stone Bowls
The Dolsot (Stone Bowls) bowls we use at Seoulville for any Rice on the Rock dishes are very similar to this. These are made from fine clay that are Lead (Pb) free, Cadmium (Cd) free, and Arsenic (As) free so you don't have to worry about any chemicals that might get into your food. Although they are dishwasher safe, I recommend hand scrubbing these down first because burnt rice tend to get stuck on the bottom.
Large/ No Lid (Amazon Link) -> http://amzn.to/2lVVzW7   $29
Soup/Stew Stone Bowls
As another variation, these bowls are generally used for soups and stews. The lids are also made out of clay and you definitely have to be careful when you are lifting the lid while it's hot (use a towel!). We use these to cook our Kimchi Stew, Soybean Paste Stew, Soft Tofu Soup and Bulgogi Soup. It also tastes so much better when cooked from scratch in these bowls as opposed to using typical stainless steel pots.
Small size/No Lid (Amazon Link) -> http://amzn.to/2lVVUYT    $18
Medium size (Amazon Link) -> http://amzn.to/2mh7ejS   $38
Large size (Amazon Link) -> http://amzn.to/2mDE6WJ   $43
Large Flat Stone Platter
I cooked steak at home last week and used this platter to slowly cook the NY Strip to a nice medium-rare. After searing the steak nicely on all sides, I put onions and mushrooms on the bottom of this platter and fired it up with the nicely seared NY Strip on top. I let it heat up and by the time I took the platter off the fire and on put it down on the table, it was ready to eat at a perfect medium-rare. You can do a lot with these stone platters and it's up to you to decide what you want to do with it!
Sizzling Platter Pizza Pan 12″ (Amazon Link) -> http://amzn.to/2mDQupR   $54
Option #2
Sold by Spiceberry Home
Granite Stone Dolsot Bibimbap Bowls SET of 2
Instead of fine clay, these are made of natural stone. Some will argue that these are more "authentic" because they are actually made out of stone. I do generally think these look more traditional, but cleaning these might be slightly more laborious. This one is listed as a set of 2, so this would perfect for sharing some homemade Korean or whatever type of cuisine you may want to experiment using these bowls for a nice pleasant dinner.
Granite Stone Bowl Set of 2 (Amazon Link) -> http://amzn.to/2ncnouh   $59.95
How Long do they last?
We've been operating as a restaurant for 3 years now, we've only ever lost one single bowl because of cracking. Suffice to say, these bowls last a LONG time! These stone bowls go out to our customers regularly, and often, many of our most popular dishes here at Seoulville are both cooked with and served in these stone bowls. If you plan to use these in your own home kitchen, you should definitely expect these bowls to serve you for a long time and have no issues with durability. It's a great investment for an item that will both last, as well as add flavor, texture, and authenticity to your home cooking — not to mention, an aesthetic fixture of traditional Korean cuisine that will serve as an excellent point of conversation!
Hopefully this helps with your decision to whether or not buy a stone bowl for your home!
Visit our restaurant at
–
–
–
Amazon Associates Disclosure
Seoulville is a participant in the Amazon Services LLC Associates Program, an affiliate advertising program designed to provide a means for sites to earn advertising fees by advertising and linking to amazon.com.